Lesley Bannatyne
Halloween Author


QUICK LINKS

Articles
News
Links
Bio
Contact
Halloween Books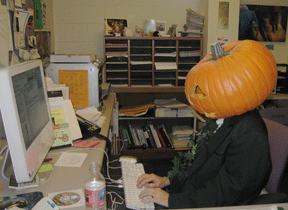 Lesley Bannatyne
Halloween Author

Selected Articles:

Halloween

Why Halloween Matters (essay) 2012
Halloween: A History (updated 2012)
NEW! Imagining Halloween. A Literarary History (2011)
The World According to Gourds
Halloween in Victorian America
Extreme Halloween
Halloween Myths and Monsters
What's Next: Trends in Halloween

More stories (all subjects)

The World According to Gourds
--Lesley Bannatyne
Originally published in Christian Science Monitor,(Halloween, lit with 5,000 candle power, 2003).
All rights reserved.
c Lesley Bannatyne

It's dusk on opening night of the 2001 Jack o' lantern Spectacular at Roger Williams Park Zoo in Providence. With only ten minutes until showtime--when all 5,000 jack o' lanterns need to be in place and lit--John Reckner bumps a wheelbarrow piled with pumpkins down a dirt path. His crew criss-crosses the three-acre site, bending to light tea candles inside each jack o' lantern, then running to the next. A volunteer leans into a 100-pounder with a barbecue lighter and jabs at the wicks of the candles inside. Someone kicks on the fog machine. The sky glows orange for a few more brief moments, then darkness hits.

The first audience piles through the gate, giddy at the sight: a 300-pound giant pumpkin carved in the likeness of Humphrey Bogart flickers softly in a copse of tall pines. A glowing orange Abe Lincoln squats among a dozen other ten-times-larger-than-life presidents. There's Harry Potter. Jim Morrison. Archie Bunker. Five hundred carved jack o' lanterns hang along the limbs of a giant tree. Nine hundred dot a craggy hillside trail.

This is pumpkin carving at its best, due largely to the all-consuming passion of an Oxford, Massachusetts letter carrier who saves up vacation days so he can create a new show each fall.

"I spend all day walking around thinking up ideas," Reckner explains. "And I love the outdoors, so what I like most is being able to blend the pumpkins into a landscape and highlight its beauty."

Reckner's been in love with pumpkins since he took his family up to northern Vermont one October more than fourteen years ago. He'd heard about a town called Northfield Falls, where each house carved a giant gourd on Halloween. They approached the town as the late afternoon light grew dim and the air turned cold. The Ford took a turn along the two-lane highway and, to the family's amazement, they came face-to-face with hundreds of jack 'o lanterns blazing away on a hillside.

"Pumpkins!"

It was a sight they'd never forget.

"We started out in 1988 with a couple hundred pumpkins, and put them up behind a local school in Oxford. About 300 people came," he says, recalling his first pumpkin show.

By 1999, there were 20,000 folks walking through the display over an eight-day period and Reckner, along with his son, daughter, and the thirty friends who'd helped out since the beginning, were carving upwards of 4,000 gourds.

"This is probably the last year," he'd say every September. "I don't know if I'm going to keep doing this."

In 2001, Reckner moved the show to Providence's Roger Williams Park Zoo, where 80,000 people saw the show and the Zoo had to turn thousands more away at the gate.

"It was a perfect marriage," recounts Lisa Bousquet, the Zoo's Public Relations Director. "We took care of the ticket booths and bathrooms so that John could concentrate on what he does best--carving."

It's really a family enterprise. All year long, Reckner and his wife and two grown children--all of whom went to art school--collect design ideas and patterns. Then at harvest time, they buy pumpkins and do the sketching. Once the carving begins, there's no letup till it's done. The giant pumpkins get turned over to "gutting Marines" who clean out the pulp and soak the pumpkins with watered-down fungicide. Then, for a week straight, they carve. Or rather, engrave. A team of about fifteen art school graduates use flexible paring knives to skin off a thin layer of rind, making carvings that are extraordinarily fine and detailed. Another team handles the "fillers," simple jack o' lanterns that they can carve as quickly as one pumpkin every three minutes.

Running the show is also non-stop work: "Every day we'd take away the rotted ones, light the show, run the show, come home, redo the big ones, get up at 8 a.m. and start all over. It had to be that way," says Reckner.

The pumpkin crew has their own kind of language," grins Lisa. "Dorothy's down but the Scarecrow's OK. Bogart is rotten. Edith will last another day but Archie's gonna be mush after tonight."

To John Reckner and crew, these are not fruits, they're performers. Divas even. Take, for example, the 800-pound beauty carved with the image of firefighters hoisting the American flag for the 2001 show. It took ten men standing shoulder to shoulder in the cold, digging the toes of their boots in the mud to shove a blanket under it, then gently drag the giant to the loading lift of their truck. Twenty hands guarded the pumpkin as it ascended; twenty hands pulled the blanket into the truck for the trip to Providence.

Reckner's worst nightmare?

"Periodically I have a dream. We don't even have the pumpkins yet and it's showtime."

Worst real-life nightmare?

"One of my biggest fears is dropping the pumpkins. One of the Norman Rockwells took us five hours to carve, and it got dropped. Then once there was Humpty Dumpty. We had a big old dead tree and we cut it in half. We were trying to get a 100-lb. Humpty pumpkin up the tree using two ladders and, well…it fell."

The 2002 show has been percolating in Reckner's imagination ever since he turned the 2001 show into compost for his Japanese garden. He's planning to carve pumpkins in the likenesses of icons of the ancient world like King Tut, Cleopatra, and Plato; scenes from literature such as The Hobbit; and homages to trains, baseball, John Wayne and Christmas. Pumpkins carved as whimsical clocks will be set in a chiming clock tower. Many more will float in the pond alongside Mozart's carved-pumpkin portrait to music from the Marriage of Figaro. "I love to combine music with the carving. And classical pieces have a subtler effect on people," he says. "That's the challenge--trying to keep it a unique experience."

No one can argue that Reckner, or his pumpkins are not unique.

Last Halloween, as the sun went down, John walked the pumpkin trail at the Zoo for the final time that year. He rounded up a dozen rotted gourds, pulled them into his truck, and set a dozen, freshly carved, in their places. The pond's surface was still. Voices drifted from the other shore--last minute instructions to the ticket takers in the parking lot, requests for flashlights. Then, darkness.

A mom, dad and two kids have driven all the way from Kentucky to see this, and as the crowd cascaded through the front gate the family stopped dead in their tracks.

"Pumpkins!"

---

John Reckner's Jack 'o lantern Spectacular was named a Local Legacy by the Library of Congress in 1999.


---

Pumpkin Carving Tips:

Carve thin: the more guts you remove the longer your jack o' lantern will last--try to scrape out all but about 1/4" of the rind.

Watch the temperature: cold is good, hot is bad. If the weather gets warm, bring your pumpkins into a cool cellar.

Moisturize: rub petroleum jelly along cut edges to prevent the pumpkin from drying out (this also deters pumpkin snatchers).

Vent: if you use a candle to light your jack 'o lantern, cut a small hole in the lid to release heat so the pumpkin doesn't start to cook.

back to top

Halloween in Victorian America

c. Lesley Bannatyne, 1990
For permission to reproduce, please write bannatyn@fas.harvard.edu


All superstitions are foolish. To fasten a horseshoe to the door to procure good-luck, or to throw salt over the shoulder to prevent it; to be glad to have first seen a new moon over the right; or sad to be sitting 13 at table; to turn twice around before setting out a second time; to frame a mental wish after speaking simultaneously the same words with another, are practices unworthy of our day, making children of grown people and fools of boys and girls. Religion is one thing; superstition another. The two are opposites. The former pays honor to God; the latter does homage to Ignorance.

--"Legends and Superstitions," St. Nicholas Magazine, November I874

Halloween made its debut into proper American society circa the 1870s. Although by then Halloween superstitions and conjuring existed among many ethnic groups, the holiday was most often viewed as the quaint practice of the Scottish and English.

Articles summarizing the genesis of Halloween found their way into the media through brief "historical" pieces published in children's and ladies' periodicals. Newspapers in the Northeast and South carried similar articles (mostly in the 1880s and 1890s). In the fiction of the time Halloween was often presented as a holiday brought to America by the northem English and preserved by the upper classes in New England. Its practice was not necessarily encouraged, but Halloween did receive enough column space to satisfy a readership eager for "new" ancient rituals, queer historical facts and romance.

One of the first mentions of Halloween appears in Godey' s Lady's Book in October of 1872:

HALLOWE'EN--Time in its ever-onward course, has once more brought us to the month in which this festival occurs. About the day itself there is nothing in any wise peculiar or worthy of notice, but since time almost immemorial All Hallow Eve, or Hallow-een, has formed the subject theme of fireside chat and published story.

The author of this article reluctantly provides his readers with a synopsis of the holiday as described in Robert Bums' "Hallowe'en" (1786, a poem in the Scottish dialect that describes in great detail the divination rites and images of Halloween in Scotland), concluding that the celebration is simply an ethnic one "amongst the old-style English, Irish, Scotch and Welsh residents":


Amongst the American people but little other sport is indulged in than the drinking by the country folk, of hard cider, and the masticating of indigestible "crullers," or "doughnuts." The gamlins make use of the festival to batter down panels, dislocate bell-wires, unhinge gates, destroy cabbage patches, and raise a row generally.

If the destructive element of Halloween was distasteful to Victorians, its Irish history was probably eqyally so. Strong anti-Catholic editorials were published in Harper's Weekly as late as 1875. The upper classes preferred to remember that their ancestors in Northern England or Scotland, rather than thousands of Irish Catholic immigrants, brought Halloween to America, and that All Saints' Day was an Episcopalian religious day rather than a Catholic one.

Over the next 30 years Episcopal All Saints' Day celebrations grew more public and more popular. Although the Catholic church celebrated All Saints' Day in accordance with its years of history and heritage, it simply did not receive as much acknowledgment in the press. As a result, vast numbers of American readers came to understand All Saints' Day as Episcopalian in origin. (lt is no wonder, given the nature of the editors of many periodicals and papers at this time, that a large group of independent Irish and African-American newspapers suddenly began to appear in the cities.) In the South, Episcopalian All Saints' Day celebrations were reported to the general public, calling to mind descriptions of Halloweens in the churchyards of small Welsh or Irish villages. An Atlanta newspaper noted in 1895:

The Episcopalians in the city will observe All Saints' Day this year with special devotional services, which will be conducted at 10 in the moming. . .when prayers will be offered for the souls of the faithful and departed. The names of the faithful of these parishioners who have died within the past year will be read in the churches and more especially for the rest of their souls will the prayers be offered. The Episcopalians of the city usually take great interest in the observance of this day and it is expected that large congregations will attend the services.(1)

The Victorian middle classes emulated the upper classes, and the periodicals they both were offered often reflected the feelings of old New England stock. On the other hand, history was remembered differently in cities such as Boston or Chicago, where many Irish made their homes. In the Boston Daily Globe of October 31, 1884, Halloween was given a rare good notice by an Irish joumalist in an article entitled "Why Thousands Will Think of Erin Tonight.":

To be sure it is a fast night, as is customary on the eve preceding great holidays of the church, but in the evening it is one which, like our own New England Fast day, knocks all religious or pious canons into smithereens as the lads and lasses enter into the fast and furious fun of its time-honored observance.

This is the season there when the well-to-do country cousins send to their relatives in the towns presents of the richest products of the farm, much of them intended for the components of the savory and hearty Colcannon feast. . .Occasionally parties of young men and their sweethearts made the rounds of the houses of their relatives and friends on Halloween, participating in the fun and all joining at the residence of some one favored with a dwelling of more suitable size for the accommodation of those participating in the fun and Fast day feasting.

The Recasting of Halloween

Children's magazines printed pretty pictures of fairies and witches; ladies' periodicals became concerned with how a Halloween party was given--decorating ideas, what foods to serve, how to break the ice. In 1881, St. Nicholas Magazine intoned a death knell for the old-world "authentic" holiday: ".. .belief in magic is passing away, and the customs of AII-hallow Eve have arrived at the last stage; for they have become mere sports, repeated from year to year like holiday celebrations."

Halloween celebrations in the Victorian age seem to be made of one part romantic inspiration, one part reconstructed history, and one part Victorian marketing. Halloween stories became almost operatic with regard to passion, and less concemed with actual ghosts. In and amongst the stories offered to female readers, which had such titles as "Love's Seed-time and Harvest," "Love Lies A-Bleeding" and "If I Were a Man I'd Shoot Myself," lie gems like "The Hallow-e'en Sensation at Gov'ner Dering's." In this tale the heroine is determined to live loveless because she believes the man she loves does not care for her. She takes up a dare to go into a dark, secret passage on Halloween night.

A l'inconnu! [To the unknown!] Dear friends, wish me God-speed. If I retum as I go, love-lorn and alone, then do I pronounce the promises of Hallow-e'en a false mockery and dedicate myself to works of charity for the remainder of my life; should I, however, attain that which I seek, should I discover a shadow that will lend me to a solution of this mystery, then to him shall be consecrated the self-will and obstinacy and obedience and--love--of Charlotte Ganett!! (2)

The lady disappears, the guests grow fearful, but then the hero climbs into the dark after her, finding her frail form crumpled and faint from a fall. Love ensues; Halloween triumphs.

The historical divination games of Halloween were often used by Victorian storytellers as devices to shuffle their lovers together. (Most of these divinations were likely taken directly from the extraordinarily popular and widely reprinted Burns poem; his "Halloween" featured extensive notes that described how to perform each of the rituals he described.) Heroines ate apples at midnight on Halloween while looking in a mirror for the face of a future husband. They followed balls of unwound yarn to dark barns and cellars, falling helplessly into the arms of some gallant hero. They cooked dumb suppers, attended raging, romantic bonfires, put nuts on grates and even bobbed for apples. As evidenced by another "ladies' magazine" tale, Halloween was but an excuse, a background, for passion unleashed in the dark of night:

Ethel: (alone) Oh, my lost, my unknown lover! When I entered upon the duties of a hospital reader, how little I thought that they were to bring me in contact with the greatest happiness and misery of my life! (tuming out the lights)

(Clock strikes twelve. Ethel takes the apple and walks toward the mirror.

Door opens and a gentleman, covered with snow, enters the room.)

Mark Waring: (shaking himself) This is better luck than I expected. I thought they'd all be gone to bed. There was a light here a moment ago. (Goes towards the fire.) It's awfully cold! I thought we'd never get here.

(Bumps into Ethel who is eating her apple before a mirror.) Hello! I-I beg your pardon! (Ethel tums around and screams.)

Ethel: (covering her face with her hands, starts back) lt is his spirit! Oh, I am punished for my folly. In heaven's name, leave me!

Mark: (excitedly) Do my eyes deceive me, or does this dim light cheat me with a vision of happiness! Lady speak to me! Are you not she who, when I lay sick and alone in a strange city and was taken to St. Mary's Hospital, came to me like an angel from heaven, soothing my fever with sweet dreams of love and happiness? Are you not she whom I lost and mourned so bitterly--speak? (3)

On one hand, Halloween provided a perfect backdrop for the caprices of Victorian young people. On the other, the age of reason was at the doorstep, and Halloween superstition was often scorned as the practice of the ignorant. As one lady said to solace a neighbor too afraid to set a dumb supper and wait for the apparition of his future wife, "Do not try it, Mr. Oakly--if she must be not only out of her mind, but actually out of her body, to make you any response, her love is not worth having."(4)

Victorian Parties

By the 1890s newspapers like the Hartford Daily Courant announced Halloween events under their "City Briefs" sections. Magazines printed Halloween recipes, decorating ideas and games. The norm was "quiet home parties in recognition of the quaint customs of days gone by," as reported by the Atlanta Constitution (probably partly true, but also wishful thinking...Halloween pranks were still berymuch part of the holiday) Most of America had now heard of Halloween: lt was an occasion for a party.

Invitations to Halloween parties had to foreshadow the fun to come. Some innovative hostesses left jack-o'-lantems on the doorsteps of their guests, each bearing an invitation. Others sent tiny boxes containing a handmade witch, with the invitation wrapped around her waist. As Victorian ladies were expected to be handy with crafts, most Halloween party invitations were handmade in the shape of Halloween symbols and featured a rhyming verse.

Come at the witching hour of eight

And let the fairies read your fate;

Reveal to none this secret plot

or woe--not luck--will be your lot!

The first Halloween parties, like any young people's party at the turn of the century, were used often for matchmaking. As one Halloween story attests, special care was taken to ensure that guests were able to present themselves as favorably as possible, and that there was ample opportunity for romance:

...a splendid bonfire was soon in operation, and the gay party danced around it after the most approved fashion of boys and Indians. The sight of the flames was extremely becoming, and the young ladies had never appeared to such advantage before.(5)

At all parties, but especially at Halloween, a highly dramatic entrance was a must. The party-giver's house was completely dark, lit only with jack-o'-lantems, fireplaces or, in some cases, long snakes made of tin and fastened above a light, whose heat made the serpent writhe. Cornhusks decorated door knockers and silent, dark-robed figures led the guests to the cellar, the kitchen or some other darkened room before they could remove the wraps. Some hostesses greeted their guests with an old elbow glove filled with sawdust; others, with active decorations such as tall hanging ghost or monstrous cobwebs made of yarn.

Yellow chrysanthemums were suggested for table decor in the advice columns of early 20th-century magazines, and use of these flowers was reported in the society pages of the same. Autumn leaves, cornstalks and berries adorned party rooms, and open doorways were accented with dangling apples and horseshoes.

Halloween party guests dined on nuts served in fresh cabbage shells, brilliant half-pumpkins piled with apples, purple grapes and pears, and chicken salad in hollowed-out tumip shells. Some hostesses served Scottish scones; some opted for New England's Indian pudding.

Parlor Games

Victorian parlor games drew on all of history, unearthing traditions that probably hadn't been used for centuries, such as jumping over a candle flame. The Welsh had purportedly jumped the Samhain fires and boys in England had long ago leapt over bonfires at Midsummer's Eve. Now the Victorians, with full dress trains and tight, hitched-up pants, were jumping over candle flames to determine their luck.

Parties included bobbing for apples, burning nuts in the fire, mirror divinations, snap-apple, apple paring and the test of the three bowls. But there were also many innovations, such as a hodgepodge of futuring games.

Maidens very anxious to know something about their future husbands will do well to try the Bible trick. lt's a good, old-fashioned and very popular trick. Take a Bible and place a key in it, leaving the ring protruding. While the Bible is being supported by the little fingers of two boys or girls recite these words: "If the initial of my future husband's name begins with 'A' turn, key turn." SlowIy repeat the letters of the alphabet, and when the right initial is reached the key will swing around and the Bible fall.(6)

Young women still dropped hot lead into cold water and prophesied the career of their husbands by the shapes they saw, but gone were the days of coffins and ships. Victorian ladies instead saw books (an editor), coins (riches), pills (a doctor), and parchments (a lawyer).

Storytelling contests around the fire were given a new edge by combining the tales with an old counting-off game. Guests each took a twig and set it burning, at the same time telling an impromptu ghost story. When the fire burned through the twig, the story stopped and the next in line continued.

Old Halloween games were given new twists and those new twists spawned new games, until many Halloween parlor games had absolutely nothing to do with the holiday. In a "Halloween weight test," guests were weighed and each number in the weight was assigned a fortune. "Kissing the Blarney Stone" was a game in which blindfolded guests had to try to kiss a white stone set on a table. Young Victorians tried to bite of bags of candy hung by threads from chandeliers or doorways, and bobbed for apples using forks dropped from their full height rather than using their teeth. They carved initials on pumpkins, blindfolded each other and tried to stick a pin in an initial to determine the name of their future mate. They set tiny walnut- shell candle boats afloat in a tub of water and predicted the course of their lives based on the movements of the fragile vessels.

In a never-ending attempt to throw a better party or find something new to do, party hostesses added details to their celebrations that confounded the holiday's purpose. Halloween rites were merged those of May Day, Midsummer's Eve and even New Year's and Christmas. On October 31, 1897, in a letter reprinted from the Philadelphia Times, the Atlanta Constitution reported the use of mistletoe as an October 31st tradition: "In this country it is a favorite evening for parties and balls, and in some sections a branch of mistletoe is suspended from the ceiling and the unfortunate girl who by accident or otherwise finds herself under the mistletoe may be kissed then and there.. . ."

Popular theme parties appeared in the early 1900s. Young people gave Cinderella parties on Halloween (complete with games like picking up a burst bag of corn meal with a sieve), Black Cat parties (here a bad-luck theme--open ladders and umbrellas to contend with in the decor), even parties with a Mother Goose theme. One of the more imaginative ideas to surface, and in fact to become a lasting part of the holiday, was the Halloween haunted house.

The cellar bad been converted into a cavern. Running water splashing over a cowbell tied under a faucet in the laundry gave the sound of rushing water, and kept the bell tolling dismally. Newspapers cut in strips and nailed to the cross beams dangled about the heads of the victims, and a hidden electric fan set the papers in motion and added breezes of damp wind to the charm of this pleasant region.

As each hapless one descended into the cavern, a huge paper bag was burst over his head, a cold, wet hand was laid on his brow...(7)

Costumes

Although Halloween disguises were still a novelty at adult parties as late as 1900, they gained popularity during the first decades of the 20th century. Halloween pageants and spectacles were also included by clever hostesses of the time:

It was announced that couples should form for a grand march. A goblin bowed to a queen of hearts, a clown to a nun, and just as fancy seized them, gay and sober, joined hands to trip together a merry two-step in and out of the rooms, through door and portieres, a line of fantastic figures.

The music changed to a lanciers; the eight ghosts formed, the rest as they happened to be together, and all went through the figures in a way that would have amazed the originators of that dignified dance.(8)

Ladies' magazines took an intellectual turn as the new century unfolded: travel, politics, history and current events took the places of fiction and romance to meet the needs of a changing readership. In the early years of the 20th century new traditions emerged such as town-wide Halloween parades, which served an American culture that was growing more diverse, democratic, and populist. By the mid-20th century, the celebration of Halloween was given over almost entirely to children.

###

Notes

I. "Episcopal Church will conduct special service next Tuesday," Atlanta Constitution, October 31, 1895.

2. Elizabeth Phipps Train, "The Hallow-e'en Sensation at Gov'ner Dering's," Godey' s Lady's Book, October, 1888, p. 280.

3. Griffith Wilder, "By Cupid's Trick. A Parlor Drama for All Hallowe'en," Godey's Lady' s Book, November, 1885, pp. 500-501.

4. Ella Rodman Church, "Through a Looking-Glass," Godey's Lady's Book, October, 1880, p. 346.

5. Ibid., p. 345.

6. "To-Night Is Hallowe'en," Hartford Daily Courant , October 31, 1895, p. 6.

7. Mary McKim Marriot, "Social Affairs for Halloween," Ladies Home Joumal, October 1908, p. 58.

8. Anna Wentworth Sears, "Games for Halloween," Harper's Bazar, October 27, 1900,p. 1651.

9. Isabel Gordon Curtis, "A Children's Celebration of Halloween," St. Nicholas Magazine, Volume 32, Part II, October, 1905, p. 1124.

back to top

c. Lesley Bannatyne 2001
For reproduction rights please contact lesley.bannatyne@gmail.com


"Corpses for Sale. Choose your own hair and skin color, as well as the degree of decay. " I couldn't resist. I clicked. Not only will you find corpses in varying degrees of decay at www.corpsesforsale.com (as well as with fillings in the teeth and realistic nostril cavities) but "a common household fly authentically reproduced down to the veins in the wings complete with optical nerve and pool of blood."

Female corpses, by the way, come with their own false eyelashes and jewelry.

There's not too much you can't get when it comes to Halloween props: cold lasagna wind-pipes gave way long ago to items like the Colorado-based Distortions Unlimited's "Electric Chair," a life-size model of a man writhing in an electric chair, complete with special effects. The crowds who clamor for more intense haunted attractions demand this level of graphic gore: mostly 12- to 24-year olds and surprisingly often, more women than men. The horror props industry--barely extant in the 70s--shows no signs of getting any less sophisticated; each new season brings more intense visuals, unique tortures and real-life, blood-pumping, it's-gonna-get-me scares. Extreme Halloween seems here to stay.

And why not? If adults who grew up in the 50s and 60s have preserved trick or treating to honor Halloween, those who grew up in the 70s with heavy metal, slasher movies and the fear of razor blades in their apples just might feel a bit of nostalgia for the creepier Halloween of their youths. As adults they populate the dark attractions industry, supplying Halloween to many of us in the form of haunted entertainments, costumes, gory decorations and realistic effects.

Not that all Extreme Halloweeners were teens in the 70s--they come in all ages and types. Graphic gore and those who both purvey it and love it have been around forever. Remember being grossed out by Atreus feasting on his own children or Oedipus gouging out his eyes? who among us isn't transfixed by the idea of Marie Antoinette's head rolling into a barrel or the endless stream of TV photos of Nicole Simpson's bloody neck? We rarely look away.

But the level of detail has changed. The industry can and does produce vivid experiences that engage the audience more than ever before. "By creating a set with a level of detail that's believable and starting with a plausible situation, you can take patrons step by step into insanity," says Leonard Pickel, veteran haunt designer.

And each year, the bar inches up a notch. The more sophisticated the industry gets, the more sophisticated audiences get, and it takes that much more to shock or thrill. After all, there's a whole generation who cut their teeth on The Exorcist rather than The Ghost and Mrs. Muir. People want--and get--more visceral thrills from their entertainment. The appetite for intense physicality is changing the nature of dark attractions, thrill rides and now, even Halloween.

But Extreme Halloween isn't just about violent images or dripping bodily fluids --you can see all that in a movie. And, it's not just about spectacle, although you can't deny it's a kick to see an actor hurtling through the air on a bungee cord (House of Shock) or an actress (Mouse Girl) with seemingly hundreds of rodents crawling all over her body (Spooky World, Massachusetts). What is it that makes lines wrap around the block for the dark, darker and darkest attractions coast to coast?

"As far as sophistication," says Ricky Dick of Castle Blood, "yes, people see better and better effects in theaters everyday. How do we compete with our rubber spider on a string? The only thing that saves us is that the spider on the screen can't jump out and really touch you."

Real, bonafide contact.

Kim Yates agrees: "At Kim's Krypt (Baltimore) you don't know what is real and what is not--what's lurking around the corner, what's behind the bush, on the roof, under the bed, or even in the car with you. That's right. Sometimes we follow the customers to their car and get in."

They want something you can feel, smell, sense. Something more visceral. Like Six Flag's Brutal Planet-style sensory assualt. Or the crunching of bugs underfoot at Universal Studios "The Mummy" (Halloween Horror Nights III).

It happens in home haunts too. Charles and Terry Brown of Cambridge, Massachusetts used to decorate their tiny yard on Huron Avenue with tombstones and dummies. But not until they added their daughter dressed as a witch stirring cauldron full of dry ice did crowds of trick or treaters increase from about 50 to 300. They turned a decorated yard into a stage set and added the element of performance. That's what people flock to: the chance that something unpredicatable could happen. The adventure. But, of course, to have an adventure, there has to be a scary part.

Why do people like to terrify themselves?

"It's like boot camp for the psyche," says film director Wes Craven (Scream) in an interview with David Blum in the New York Times (10/30/99). "In real life, human beings are packaged in the flimsiest of packages, threatened by real and sometimes horrifying dangers, events like Columbine. But the narrative form puts those fears into a manageable series of events. It give us a way of thinking rationally about our fears."

Extreme Halloween as catharsis? Maybe.

When you provoke anxiety, psychologists say, you learn that it doesn't hurt, and are less afraid in general. It's the luxury of being safe and being scared at the same time. As soon as it gets real, it's not even slightly fun. So it's not that we love actual death and gore, it's that we love the visceral reaction it gives. Fear produces an adrenaline rush; mix it with desire and you begin to understand why Scream is a date movie.

There are a few more elements of Extreme Halloween that are worth thinking about. Although many people enjoy the adrenaline rush of fear, very few choose to go through an intense Halloween attraction alone. Group terror is a way to connect with people no matter how temporary the bond: kind of like a rave but with no drugs and a lot more screaming. Creators of Extreme Halloween events are constantly looking for new ways to hook their audiences and interactive techniques like paint ball and laser tag are creeping into the mix.

Lastly, Extreme Halloween has got to be at least partly about rebellion. Halloween is the only holiday we have left that even remotely up-ends the world order; and it's certainly the best rebel holiday we have. It pits kids against adults; it's associated with heavy metal music and Satan; plus it happens after dark and is associated with anarchy. Of course it gets scapegoated: the teens are out of control, it scares the children, it's dangerous. In a never ending series of maneuvers to place blame, Halloween takes the rap for violent kids, Godlessness, and vandalism. Extreme Halloween creators fight back by taking it over the top into an in-your-face Halloween experience. "You think we're scary? I'll show you scary."

Is Extreme Halloween market driven or culture driven? Latest money maker or response to the dumbing down of terror? Giant orange and black mosh pit waiting to happen, as Ricky Dick would say, or annualized ritualistic purging of fear? My guess is all of the above in varying degrees depending on what line you're standing in.

Those who enjoy the most intense parts of Halloween find in Extreme Halloween an unspoken bond. They meet at Halloween haunts, parties and hayrides coast to coast, drawn together by secret pleasures: we like corpses and tarantulas, fangs and fake blood. And this is our night.

Turn up the volume. Cue the rats.

The Truth About Halloween

--Lesley Bannatyne (excerpted from A Halloween How To. Costumes, Parties, Decorations and Destinations, 2001
Permission to reprint from Pelican Publishing Company, write info@pelicanpub.com)



"I hate Halloween," exclaims an elderly caller on an AM radio talk show in Maryland. "They should get rid of it. Kids today are just destructive."

"Halloween glorifies Satan," warns a preacher on national cable television. "Kids shouldn't dress up as devils, period."

"I would never let my children go out trick or treating alone," confides a D.C.-area mom of her six year-old and ten-year old. "I'd never forgive myself if something happened."

People hurl invectives at Halloween like bullets. It's dangerous. Bang. It's Satanic. Bang. It's commercial. Bang. It's too scary, too corrupted, too sanitized. Bang, bang, bang. But the holiday doesn't sink to its knees and die. It grows bigger and more pervasive, with eight out of ten adults currently celebrating it in some fashion.

When people rail against Halloween, they don't really mean Halloween itself-what they usually mean is let's get rid of vandalism, or begging, or scary costumes. The actual holiday serves a need so human, so indefinable essential, that we'll probably still be celebrating when the ice cap melts and we're all trick or treating in powerboats.

You can tell how evocative Halloween is by taking a look at its detritus-the urban myths surrounding it-and the waves of anti-Halloween crusades that threaten to ban, change, contain or otherwise control it-all signs that the holiday is a very powerful cultural event. If it didn't mean anything, if it didn't answer a need, if it wasn't of use to us, it would gradually fade away like May baskets and Sadie Hawkins Day.

But the more popular Halloween gets, the more we hear about the down side: poisoned treats, razor blades in apples, black cat kidnappings, Satanic rituals. How dangerous is Halloween? What's true, exaggerated, or just plain made-up? Like shapes in a dark room, there are many stories associated with Halloween that dissolve when you look at the facts. Let's turn on the light and see what's a monster and what's simply a coat tree casting a shadow on the wall.

Halloween Myths: True or False?

Sadistic adults put razor blades in apples and give them out as treats.

False.

You've read about this one in the papers. Somewhere there's a fiend who buries razor blades in the flesh of ripe apples (or pins, sewing needles or glass) and entices neighborhood kids to take a big bite and swallow. Every year we warn our kids to watch out for him, and every year newspapers publish Halloween safety tips that often include "check for tampered treats."

But this particular fiend doesn't exist. He never has. According to police reports and studies, not one child has been killed by a sadistic stranger lying in wait on Halloween with a deadly treat. The story of the razor blade in the apple is what sociologists call an urban legend, similar to the rat supposedly found in fast food fried chicken or the man who woke up with a pain in his back and discovered one of his kidneys missing. These are stories, told and retold, that seem like they could be true-it's possible that these sorts of things could happen-but they're too perfect. Their symbolism is too contrived; the plotlines too neat. They usually contain a warning against the dangers of urban life in the guise of a good story. Urban legends actually serve a purpose-they give our fear a symbolic form so we can express it.

The image of a razor blade in an apple fits the criteria for an urban legend beautifully. The metaphor is rich. The apple is a symbol of the afterlife, of old world Halloween. It's the fruit used to tempt the innocent (Adam and Eve, Snow White), but sliced through the middle by an ugly blade. And the Halloween sadist, an otherwise productive member of society who turns into a psychopath just one night of the year, is pretty unlikely. This holiday has always been about death and fear: the tainted-treat-toting-psycho is but a new icon in the pantheon of Halloween spooks.

Then there's the practical side. First of all, how do you hide a razor blade in an apple without putting a telltale gash in the skin? And honestly, who among us would root through Snickers bars and Butterfingers to sneak a bite of an apple on Halloween?

Joel Best, Chair of the Department of Sociology and Criminal Justice at University of Delaware, has studied the Halloween sadist phenomenon in depth. Together with Gerald Horiuchi, Best published a 1985 study that concluded the Halloween sadist was essentially a myth. Their often-cited article in Social Problems(1), outlines the team's findings:

"A review of news stories about Halloween sadism from 1958 to 1983 suggests that the threat has been greatly exaggerated. Halloween sadism can be viewed as an urban legend, which emerged during the early 1970s to give expression to growing fears about the safety of children, the danger of crime, and other sources of social strain."

Best and Horiuchi drew several conclusions. First, they discovered no evidence of children being harmed by anonymous strangers. Best was able to track about 80 cases of sharp objects hidden in Halloween treats and discovered that almost all were hoaxes. There were only two deaths related to tampered treats-both poisonings. One child died after eating heroin found in his uncle's home (not hidden in his treats, as initially reported); and a second was poisoned by his father, who allegedly put cyanide in the child's candy to claim a large insurance payment. (A third child, not in the original study because the incident occurred after 1985, was found to have died of heart failure, rather than the Halloween treats initially reported). Best and Horiuchi found no justification for the claim that Halloween sadists are a threat to kids. They also found, interestingly, that of the cases reported, most were incidents perpetrated by the kids themselves to gain attention, or to get back at an annoying sibling.

Still, stories of tampered treats spread throughout the 1970s and 1980s. Hospitals began offering X-ray screening of treats (although they eventually all but stopped, as they rarely found anything and X-rays can't detect poison), and some towns banned trick or treating for a few years. But most parents dealt with it on an individual basis. There was no nationwide movement created to confront the problem, because there was no real proof that the problem existed. In other words, the razor-blade-in-the-apple was a false threat, and as such, never caused the public hysteria attached to a real threat, like school shootings or terrorist bombings.

So if this phenomenon (of the Halloween sadist) doesn't really exist, why do we all know about it, teach our children about it, and act as if it were true?

Sociologists says that we use urban legends -stories we repeat over and over-to express our doubts about the safety of our kids, our neighborhoods, and our world. Best pinpoints the origin of the razor blades legend to the late 1960s and early 1970s, a time when we became more aware of child abuse as a widespread social problem. Fear of crime in general grew during that period, as did mistrust of strangers. This vague sense of anxiety congeals into something concrete we can talk about-the "Halloween sadist"-and we tell stories to each other and our kids as a way of saying, "Be careful, it's dangerous out there."

In truth, your neighborhood is no more intrinsically dangerous on Halloween night than it is on any other night, and no child to date has been killed by eating a razor blade hidden in an apple by a sadistic stranger on Halloween.

Halloween is a Holiday for Witches.

True.

Samhain (sow-en), celebrated on October 31st, is one of eight major seasonal holidays marked by many contemporary Witches and Neopagans.

Modern-day pagans use solstices and quarter days to mark the turning points of the year. Samhain's reserved for honoring ancestors and remembering loved ones who've died, and for acknowledging the cyclical nature of living and dying.

Although practices vary widely, most Witches will gather for a ritual. Witches don't believe in Satan, so there's nothing Satanic involved. Nor are there sacrifices, invocations of evil, or naked orgies; some of this is propaganda leftover from hundreds of years ago.

More likely, this is what you'd find at a Witch's Samhain ritual. The meeting place (be it inside or out) would be lit with candles, probably jack-o-lanterns, and decorated with harvest fruits and vegetables. People would enter quietly and gather in a circle. There might be a brief invocation of a goddess or god to provide wisdom, or a guided visualization to help understand the process of death and rebirth. Participants might remember people in their lives who have died recently, express grief, and share memories. The ritual might include some scrying (looking into the future) and conclude with everyone dancing to the beat of a drum and chanting. Samhain is a time of death-of the year and the fields-but within the frozen ground are beginnings of new life, and the goddess will return at the appointed time. The earth will green.

So if there's nothing intrinsically evil in Witchcraft , how did witches get mixed up with the devil in the first place? And why do we think of them as Halloween symbols?

The Halloween Witch

Witches exist not only in history but in folklore, film, literature and popular culture. So when you're talking about witches you have to be sure which kind you mean: real or fictional, folkloric or cartoon, ancient or modern?

The term witch likely once meant seer or diviner (the Anglo-Saxon root is witan, which means to see, to know; wit and wisdom come from the same root). At first, the church lived more or less peaceably with people who kept their own folkways, either in addition to or separate from the teaching of the church. (France's first witchcraft trial, for example, was not until 1390; the English were tolerant of "witchcraft" until the reign of James I in the early 15th century.) Witchcraft became contentious in the Medieval church, when the clergy theorized a relationship between witches and the devil, and made non-belief in witchcraft a heresy.

Inquisitors from both the church and from local courts began discovering witches in every town. At first people scoffed at testimony gathered by the various Inquisitions. Witches, said rational folks, can't raise storms or strike people dead with a glance. But after hundreds of people were imprisoned for disagreeing, tortured, and eventually forced to confess to crimes of witchcraft, others fell silent.

So what was a witch back then? A witch could be anyone (male or female) with special abilities--a poor person who was educated, for example, or someone with a green thumb. Witches were scapegoats for doctors who couldn't help patients, because illnesses caused by witchcraft were believed incurable. They were outcasts, petty criminals, indigents, the insane, or widows; they were the kind of individuals who were easy to get rid of and often considered a nuisance. They were protesters and dissenters. Witchcraft was used to cover up anything the Inquisitors couldn't explain and to solicit souls for the Church's war against Satan.

Over the roughly 300 years of the witch craze in Europe people came to fear witches. They were wary of witch's pets (cats); witch's tools (brooms); and witch's festivals (including, in Scotland especially, the eve of All Hallow's). The last witch trials were held as recently as 1712 in England and 1711 in Ireland. The last witch burning was in 1722, in Scotland, and the last hanging in the American colonies, 1692.

From this period in history we inherited the image of the witch who flies, harms cattle, curdles milk, steals babies, consorts with the Devil, and causes illness and death. It is this witch who lives on in fairy tales and folklore; who frightens us in film and literature. And it is this witch most of us associate with Halloween.

Satanic cults use Halloween to perform ritualistic crimes.

False.

There are two questions to address here. First, to what extent do Satanic cults or ritualistic crime really exist? And secondly, what's Satan's connection to Halloween?

Religion scholar and encyclopediaist J. Gordon Melton calls Satanism "the world's largest religion that does not exist." The largest organized Satanist-style cults such as the Church of Satan or the Temple of Set (never more than a few hundred members in their heyday) are now largely dormant, and Melton has discovered that most practicing Satanic cults usually number three to five people and last only a few months. There is no religious denomination or even any cult today celebrates the Devil on Halloween, not even so-called Satanists, since they don't acknowledge the existence of any higher power including Satan. In addition, there are no confirmed statistics, court cases, or studies to support the idea that serious Satanic cult crime even exists(2). It turns out that most of the devil-worshipping activity reported in the media is perpetrated by teenagers based on what they've read in church literature or seen in movies.

So how did Satan get tied to Halloween? Satan didn't come into the formula until the 14th through 17th centuries-the time of the Inquisitions-when witches were thought to make a pact with the Devil at their rituals (see the Halloween Witch, above). Fears of witchcraft and Satanic rituals had abated with the Enlightenment, and by the 20th century, pointy black hats and red horns were simply part of the fun of Halloween. But films like Rosemary's Baby and The Exorcist (among many, many others) have etched a more detailed, modern persona for the Devil in our imaginations. With John Carpenter's 1978 Halloween, Hollywood started to mine Halloween imagery for terror, and Halloween and horror became synonymous. It was a provocative stew. The more horrific and satanic Halloween was portrayed, the more vehement the opposition from some churches.

It may simply be that Halloween's symbols are incendiary. In our image-based society, somewhere along the line we began to confuse symbols of death with those of Hell. Ghosts and goblins, fearsome faces and fire-traditional images for spirits of the dead set free on Halloween-are now often construed as hellish. I suspect it's Hollywood, more than anything else, that helped put the hell in Halloween.

Black cats are in danger on Halloween.

Rarely, but yes.(Information in this section is correct as of 2000)

Black cats are the target of age-old superstition: witches can take their shape; they can suck the breath from an infant, curse a corpse, and perform cruelties too numerous to list. Although most of us no longer harbor these beliefs, we do sense that Halloween and black cats go together. And over the past decade or so newspapers have run many stories about black cats being abducted and used in occult rites on Halloween. Are they?

Since 1997 (and lasting 5-10 years depending on the shelter), the American Society for the Prevention of Cruelty to Animals (ASPCA) has instituted a better-safe-than-sorry policy and not allowed the adoption of black cats three days before and after Halloween. In that year, the organization got suspicious when a woman adopted a black cat, but when the ASPCA made a follow-up call to see how the cat was doing, the woman reported the cat was dead. When ASPCA workers came to pick up the body, they discovered she'd given a phony address. The investigation of the case halted there. Was the cat harmed? Was it somehow related to Halloween? We won't ever know. But taking a proactive approach seemed the Society's safest choice.

The staff of the Humane Society of the United States (HSUS) reported in 1999 that they have not personally witnessed a case of black cat abuse at Halloween (in fact, most shelters report no such cases). It has, however, reported hearing stories, and so recommends protection of black cats around Halloween. In response, shelters and humane societies nationwide have suspended adoptions of black cats. The bans have been in place throughout the 1990s, with some shelters denying adoptions as early as the 1980s. Although HSUS lacks statistics about risk to black cats during this time, anecdotal evidence is enough for it to take a conservative approach. And besides, anyone who wants to adopt a black cat can still do so after the Halloween ban is over, which, for most shelters, is a matter of a few days to a few weeks.

The threat is not all smoke and mirrors. There have been a few, highly publicized incidents of black cat abuse around Halloween. I was able to find and track a dozen reported incidents between 1992 and 1999 (for comparison, in roughly the same time period, an estimated 2500 dogs and cats had died or suffered during air travel, according to the U.S. Department of Agriculture). Upon further investigation, some cases turned out to be unrelated to Halloween or black cats. Two of the cats were unharmed, only seven of the incidents involved black cats (as opposed to brown cats or tabbies), and it's difficult to document how many happened on or near Halloween (either the shelters had gone out of business or the staff could not remember). In the only case that was prosecuted, the perpetrators were teenagers. Oftentimes, confusing the issue, journalists report examples of animal abuse that have taken place at other times of the year in articles about black cat abuse at Halloween.

Sadly, animal cruelty happens year round and to all colors of cats, but we are hyper-aware of anything occult or Satanic at Halloween time. During October, 1999, for example, there was not one newspaper report of a harmed animal in the dozen U.S. cities I examined. But in that same period, many papers ran articles about suspended adoptions including USA Today, the Washington Post, and the Boston Herald. Most stories quoted shelter personnel who implied that cats are in danger of being used in ritual sacrifice. As a result, the sense of a crisis exists where there are only unrelated, isolated incidents, none of them involving ritual sacrifice by Satanic cults, but rather cruelty and crimes committed by individuals.

The increased media, however, does give the shelters and humane societies a chance to educate the public about pet safety. For those who love and care for cats, saving even one life makes the effort worthwhile.

During Halloween, the Humane Society of the United States recommends: 1) keep your cats away from the door and make sure they have on collars and current ID tags in case they get spooked by trick or treaters and bolt; 2) keep candy out of reach (chocolate can kill dogs, and is also toxic to cats); and 3) keep cats away from flames, and from hanging streamers that could choke them.

Halloween Monsters

Zombies , Goblins and Ghouls

Here's the rundown on what makes a zombie different from a ghoul or a goblin: a zombie, via Haitian folklore, is a corpse who's up and about because a witch doctor has dug it up and stolen its soul. A goblin, from French folklore, plays pranks and steals wine-but can also be slightly helpful. A ghoul, of Arabic origin, eats corpses and, sometimes, young children; it was once thought to be the terror of the desert personified. These are all lower creatures of world mythology. Now a ghost-that's a different story. A Gallup Poll taken around Halloween, 1999 found that roughly one third of us say we believe in ghosts, three times the number who admitted it twenty years ago.

Ghosts

The first Halloween ghosts were perhaps, as Ray Bradbury suggests in The Halloween Tree, memories of our great grandparents. It's not hard to envision ancient tribes camped around a bonfire telling stories of heroes and battles, strange encounters and unexplained sights. As the night stretched on, we can imagine how the tales grew more vivid, the subjects more supernatural. There would be talk of ghosts.

Although it makes poetic sense for spectral activity to increase on Halloween, most ghost investigators I've talked with say it's just not so. We humans may be more aware of the spirit world on Halloween, but the spirit world appears to treat the holiday as just another night.

Vampires

As for vampires, they have no real tie to Halloween other than as a favorite costume choice and a certain similarity with the other undead characters of Halloween. That said, is the vampire culture more active on this night? Do real vampires even exist?

It depends on how you define vampire. Says Dr. Jeanne Keyes Youngson, lifelong vampirologist, "There is no such thing as the traditional reanimated corpse. I have it from the lips of Milton Helpern, former head of the New York Coroner's Office. It's impossible for a body, once life functions have shut down, to come back to life. There are, of course, vampire "wannabes" who do their best to emulate the Undead." According to Dr. Youngson's 1999 Worldwide Vampire Census, 272 of the 713 respondents claimed to actually be vampires.

Fascination with vampires crosses all age groups and lifestyles, from the little boy ogling a slick black-cape-and-fang set in the Halloween aisle at Wal-mart to the hordes of adults entrenched in vampire role-playing games. There are those who believe in psychic vampires, individuals who suck the life energy from those around them; human vampires, who claim they experience all the characteristics of fictional vampires except immortality; even in supernatural vampires who inhabit a netherworld also populated by ghosts. But among those who believe themselves to truly be vampires or take on a vampiric demeanor as a lifestyle, Halloween is still largely a holiday where they can delight in the freedom to be who they are; it's is the only night when the rest of the world looks like them.

Vandalism

Can you imagine answering the door and getting hit with a bag full of slimy, stinking muck from the bottom of the street gutter? Or being trapped in your own house by some kids who knotted a rope from your front door to your porch railing? Or finding your front fence hanging from a telephone pole, your cow locked in the schoolhouse, or a six-foot tall pile of lumber blocking Main Street as you head downtown for your newspaper?

Toilet paper in the trees seems pretty tame by comparison. Yet all these tricks date from a time when Halloween pranking was considered safe and fun. Most people didn't object to these kinds of pranks; they tossed them off as mischief. Today they'd make the papers under headlines such as "Vandals Caught in Halloween Prank Gone Awry" or "Satanic Cult Linked to Cow Theft."

It's true that pranks have become more destructive. And a real shift has occurred between then and now, between a time when adults tolerated a certain amount of pranking and now, when angry seniors berate teens on radio talk shows. The change in attitude has less to do with the holiday and more to do with social tensions between classes, races and generations. Halloween's simply the backdrop for the drama.

When everyone knew their neighbors, pranks got pulled on the local grouch and people smiled guiltily to themselves. But when Americans moved into crowded urban centers full of big city problems like poverty, segregation and unemployment, pranking took on a new edge. Vandals struck out blindly against property owners, adults, and authority in general: city kids setting dumpsters on fire didn't know who owned the property they were torching. Tires were slashed without regard to whose car. It wasn't about pulling off a good practical joke any more; it was about doing damage.

The war between kids and property on Halloween has been fought pretty hard over the last twenty years. There are notorious cities like Detroit , where in 1984, a record of 810 fires were set during the three-day period around Halloween. Suburban police dealt with broken mailboxes, spray painted cars, and toppled headstones right along with their big city counterparts. "I've got neighbors who are so fed up they're driving around with guns on their dashboards," a spokesperson for a group of homeowners in Wildwood, Illinois told the Chicago Sun Times after the 1986 Halloween season.

Halloween vandalism seemed to reach a peak in the late 1980s. The Halloween "Mall Crawl" in Boulder, Colorado ended in drunken fighting and property damage. There were a record number of arrests in New York City for Halloween-related assaults, and violence in the usually peaceful Castro district of San Francisco. Curfews and community action came into being to fight back against crime.

They scored some pretty dramatic wins. In 1994, Detroit enlisted 35,000 residents to patrol the streets and keep watch over abandoned properties. The number of fires reported that Halloween were fewer than on an ordinary night, and the city famous for its fiery "Devil's Night" became known for "Angel's Night." Neighborhood Crime Watches and "Pumpkin Patrols" continue to crop up across the country to help ensure the little kids get home safe and the bigger kids stay out of trouble. And many cities have started sponsoring concerts and dances for older kids on Halloween.

Arson, vandalism, and harassment are not a normal part of Halloween mischief, and community organizing helps keep the holiday sane for everyone. But that doesn't mean there's no room left for pranks. Pranks and vandalism are apples and oranges, and learning the difference between them is part of growing up.

Traffic

The biggest Halloween danger to kids is probably traffic. Former Boston helicopter traffic reporter Judy Paparelli says the accidents start first thing in the morning on Halloween. Drunk drivers are part of it: in 1998, more than 20% of all fatalities that occurred during Halloween weekend were alcohol-related. The other parts of the problem are low visibility and carelessness.

Halloween costumes make for distracted drivers and excited kids. Little ones in dark costumes are hard to see, and trick or treaters are more apt to run out into streets from between parked cars in their hurry to get to the next house. Experts warn that most little kids aren't ready to handle street-crossing by themselves, and often overestimate how quickly they can cross or rely too much on the "magical" power of a crosswalk to protect them. The Centers for Disease Control (together with the Division of Unintentional Injury Prevention and the National Center for Injury Prevention and Control) compiled statistics of Halloween-related traffic deaths from 1975 through 1996 and found that: "overall, among children aged 5-14 years, an average of four deaths occurred on Halloween during these hours each year, compared with an average of one death during these hours on every other day of the year." An addendum warns the figure may be low, since it does not include accidents that occur in driveways, parking lots and on sidewalks, nor does it include data beyond 10pm or from another day (for example, when Halloween is on a Sunday and kids trick or treat on Saturday instead).

Halloween sadists and Satanist psychos don't hurt kids on Halloween. Cars do. No devil-worshipping cult lies in wait for us. But, yes, there are twisted pranksters and angry, unhealthy people in the world. Sometimes Halloween safety restrictions are really a smoke screen for intolerance, and sometimes Halloween mischief masks serious social ills.

The real Halloween monsters are the same monsters we live with every day: bad judgment, anger and small-mindedness. Maybe we'll learn to define and challenge these everyday threats and leave alone those traditions that strengthen communities and make childhood magical.

Endnotes

1. Joel Best and Gerald T. Horiuchi, "The Razor Blade in the Apple: the Social Construction of Urban Legends," Social Problems, Vol. 32, June, 1985.

2. For a good study of Satanic cult activity in America today, read Jeffrey Victor's Satanic Panic, Open Court Publishing Co., Chicago, 1993.

WHAT'S NEXT: TRENDS IN HALLOWEEN

--c. Lesley Bannatyne
Excerpted from A Halloween How-To: Costumes, Parties, Decorations and Destination, 2001
For permission to reprint please contact the publisher at info@pelicanpub.com

Commercial, Communal, Spiritual, Extreme, and Anti-Halloween

Think of Halloween as a tree. Like a sapling, it takes root and shoots up. Through the years each generation adds a layer, like a series of rings, to the celebration. And although the holiday may look slightly different each time there's new growth, at the core it's the same. It feeds from the same roots, but its branches stretch out in new directions.

On Halloween two hundred years ago, people predicted their marriage partners from the roots of cabbages; no one could have imagined our trick or treating, much less the idea that Halloween would become a children's holiday. A hundred years ago, women dressed in fancy gowns at Halloween parties; last year people were wearing nothing by airbrushed bikinis. I don't think the Victorians saw that coming.

One hundred years from now Halloween may be unrecognizable to us. Maybe stranger danger will be so extreme kids will ride special "Hallo-transit" vehicles down the street, and adults will slip them treats through a pneumatic tube. Downtown there'll be a specially designated Halloween zone, where the in-vitro, lab-grown pumpkin's on display in a black-and-orange decorated vitrine. Or the holiday will become so prepackaged you can only buy the Nostalgia Set (vampire costumes, yard fogger and a can of condensed garlic soup) or New Dimensions (a coupon good for one night of time travel back to the ancestor of your choice). Maybe we'll come full circle and spend Halloween out on some post-apocalypse hillside pasture, huddled around a peat fire trying to make sense out of sheep guts. Halloween reflects our culture, and will change along with it as long as we have a pulse.

Ancient Celtic Samhain was about kin and chaos. Medieval All Hallow's was about death and redemption, Victorian All Hallowe'en about romance. What's contemporary Halloween about? Some would say consumption. Others would say community or creativity-transforming the ordinary into the extraordinary. Look at my bleeding mask of doom! You think Elvira's the only one who can wear a hydraulic bra and a tight black dress? Watch me! Halloween is growing again, adding another generational layer.

On the one hand, it's almost become a counterculture holiday: adolescents gain power and adults feel threatened. The celebration's become associated with heavy metal music and gender-bending. And look who's responsible for Halloween's new popularity-baby boomers who came of age in the counterculture of the 1960s. Halloween is counter-reality, a day when dads from the suburbs watch drag queens parade up 6th Avenue in New York, and people everywhere open their doors to strangers. On Halloween we walk right up to the threshold of what we can tolerate because we know it's only for one night.

And yet, at the same time, Halloween's evolving from a gently anarchic holiday to an institutionalized one, where corporations try to dictate costume trends and civic organizations regulate hours and days of celebration. Interestingly, while 1940s Halloween activities were organized to protect property owners from kids pranks, now they're being used to protect kids from adult strangers.

Halloween has gone from being about death as transformation-moving from the physical world to the spirit world-to transformation as presentation-transforming your house, yard or self for one night and showing it off to the world. This multi-headed Halloween, this institutionalized rebel, is creative, communal, rule-breaking, extravagant, and more than a bit egocentric. In other words, a truly American phenomenon. Halloween has sprouted a few new branches for its 21st century incarnation: commercial Halloween, communal Halloween, spiritual Halloween, extreme Halloween and anti-Halloween.

Buying and Selling Halloween

The aisles of the Halloween Outlet store in Worcester, Massachusetts are crowded with clerks trying to unbox the merchandise. A makeshift work table in the middle is strewn with molded rubber props-bloody fingers, arm and legs, aliens in jars of viscous liquid-amongst paperwork and calculators. A technician's trying to wire animatronic ghouls in the front window, and the owner, Gary Arvanigian, is up to his elbows in catalog orders at a table in the back room.

"Wait a second Christine," hollers Gary, "Let me give you the dragon."

Christine wrestles with the front door, trying to balance three big boxes on her hip as she wedges the door open with her foot. She's on her way to a nearby mall to set up a branch store. "I can't fit it in my trunk," she shouts over her shoulder. "The tail hangs out the back of my car."

All 7,000 square feet of the store are packed as full as Christine's arms. And it's only August.

Halloween today is second only to Christmas in activity, say the merchant associations that keep track of retail spending in America, with somewhere around $6 billion in estimated annual sales and growing. That's Airheads and plastic axes, extension cords and cornstalks, black lights, strobe lights and Bud Lights, as well as pumpkin puree, liquid latex, airbrush kits, rubber rats, fog machines, sugar skulls, skeleton bones, cobwebs, chrysanthemums and soundtrack cds-not to mention trailer rentals, motor parts, rotary carving tools and a whole lot more. And that figure doesn't include large facets of Halloween, such as the vintage Halloween collectibles business, which, according to dealers, has heated up 100-fold just in the last few years. Halloween merchandise and ads are appearing months before the actual day, supplemented by year-round catalog and on-line shopping, all of which has elevated Halloween from a celebration to a whole two month-long season that bridges the gap from back-to-school to Christmas.

The Halloween market has been growing nonstop for over a decade, ever since adults started celebrating seriously in the 1980s, thereby doubling, tripling, quadrupling the number of people who buy things for Halloween. When the dark attraction industry took off, older teens and 20-somethings were enticed into the market. Then when home decorating caught fire, everyone-whether 103 or three, home on Halloween or not, given to tasteful cornstalk displays or buried body parts-could take part. Halloween's packaged and sold like Christmas now, with the same merchandise categories: outdoor and indoor decorations, lights, cards, ceramic villages, and the latest, ornaments. Watch out, Santa.

Not only are there more people looking to buy Halloween, but there are more places than ever to find it. Enterprising companies set up shop in locations unimaginable even ten years ago: in virtual stores in cyberspace, or even vacant storefronts in malls, where they scramble to find personnel and to stock enough product to make it through the three months before Halloween (wasn't that an H&R Block a few months ago?). And although the American market is hardly saturated, entrepreneurs have been inching into the European market on a hunt for new consumers. The Halloween industry is making inroads in France, Germany, Australia, England, even Sweden, to name a few.

"Halloween doesn't belong to our national heritage at all," says Goran Lundstrom, of Helsingborg, Sweden, "We've been celebrating All Saints Day for hundreds of years, when people go to put a wreath and a candle on their loved ones' graves. But now Halloween has started to make its way into our society."

And which part of Halloween are we exporting to Sweden? Says Goran: "You'll find rubber skeletons, pumpkins and lots of other things, all in orange. One thing that is different, though, is the trick or treating! That isn't done here, I think. Young people just arrange parties in their homes and dress up in Halloween costume."

In Paris, Halloween is just plain hip. Costume companies found their way into the European market in the 1990s, when restaurants and clubs were eager to try anything American. Soon, shops had put out Halloween displays, costume sales were substantial, and even bakeries were hawking "Halloween cakes."

Is Halloween in France a marketing tool or the beginnings of a real holiday? Can other cultures truly celebrate our very American Halloween, or will orange streamers and imported pumpkins fade when the next new thing comes along? And what does exporting our customs do to host country's traditions?

"Creeping Americanization is in fact destroying our Scottish celebration of Halloween," states Ewan McVicar in an editorial in The Edinburgh Times, October 25, 1999. "In the grocers' shops you are offered not turnips for lanterns but pumpkins. Trick or treat has come here. Instead of a party piece for a reward, you get a threat of harassment and punishment if you do not cough up. Instead of our witches and warlocks and ghosties and ghoulies, the plastic masks that have invaded news agents' windows are aliens and zombies and vampires and Frankensteins. All from American cinema imagery."

Community Celebrations: Taking Back Halloween

"We go to the Keene Pumpkin Festival on closing night and collect hundreds of pumpkins, then line them up along the road between our houses," says Lisa Winant, a New Hampshire mother of three. "Halloween night, we collect all the kids, put them on a haywagon and go house to house. The grownups put on skits in the fields and we stop at each one. One year, we had a creature from the black lagoon crawl out of the pond, and this year we're going to make trees come to life. We started doing this with just our family several years ago, but now it's become a community celebration."

This is not an isolated incident. Many individuals, believing that the commercialization of Halloween is dumbing down our most creative holiday, are finding new ways to celebrate. Doing something together satisfies a need for community intensified by the busy-ness of our lives.

In Medfield, Massachusetts, Bonnie and Stephen Burgess began an impromptu Halloween parade on a whim: "I stuffed mailboxes on our street with fliers inviting everyone to march in a neighborhood parade." recalls Bonnie. "We set the start time and the route and held our breath. I had no idea how many would come-a dozen? We had 70 people march with us, then we all went back to our house for cider and treats. We'll definitely do it again next year."

One or two people with a good idea can bring a community together and inspire a whole new generation of trick or treaters. This is how neighborhood legends are made. Take Leafman, for example. A simple dummy stuffed with leaves and topped by a big orange pumpkin head, Leafman sat on the screened-in porch of a Newton, Massachusetts home for 16 years. At first he was just a decoration, until his creator, Michael Norman, decided to make him talk. Leafman rocked in his chair, lit up, and magically knew every single child's name. Once word got out, Norman got 500 children trick or treating at his house. And although other houses had better decorations, and even better treats (Mrs. Leafman has been known to give out pencils), the children growing up nearby wouldn't think of missing Leafman on their rounds. In fact, when Leafman retired, the entire neighborhood grieved. He was Halloween to them. He knew their names.

"I've always decorated my yard for Halloween. Tombstones, dummies-even a dead Elvis. Last year I had a young mom and her two tiny kids in tow. She told me that she had always come trick or treating at my house as a child and now she made a point of bringing her kids. I couldn't believe I'd done this-that it had already passed to another generation.

-Debra Wyman-Whitehead, Manchester, Washington

Steve Defossez, a medical doctor and member of the New England Pumpkin Growers Association, has created an entirely different agenda for his Halloween tradition: a pumpkin regatta. Defossez produced his first annual Giant Pumpkin Regatta for Parkinson's Research at Stiles Beach in Boxford, Massachusetts in October, 1999.

" I was nurturing two promising pumpkins that summer," he recalls. "Drought, vine borers, fertilizer burn, blossom rot, stem splitting and breaking and overactive vine training had yet to grace my humble plot. Gazing at Bert and Gert with my eldest son Christopher, the idea of organizing a fundraiser for Parkinson's Disease research was born. Chris and I could collect sponsors for our boats, sail, and survive."

Defossez, whose father suffers from the disease, reaped nearly $4000 for Parkinson's Research in the inaugural year-he was also able to spread the joy of growing, building and sailing giant pumpkin motorboats.

In each of these cases, one person or family took the impetus to create a Halloween that was just a little bit unique and as a result, launched a new tradition. It's this kind of generosity that takes the sting out of commercialized Halloween.

Halloween's Spiritual Side

Here and there, the dead are coming back to live with us. Drive by a cemetery around Halloween, and you'll catch a glimpse of mylar balloons and bright orange pumpkins decorating the graves of children. Even roadside memorials to victims of car accidents are done up for Halloween in my town. I may not know who died at that spot, but I know the person is still somehow a part of the holiday celebration. You can see this same impulse-remembering the dead at holiday time-in the growing popularity of Mexican Day of the Dead celebrations in the U.S.

The Days of the Dead, or Los Dias de muertos blend pre-Columbian and Spanish Catholic cultures. There are many regional variations, but usually October 31st is a night of preparation for cooking food and assembling home altars; November 1st is Dia de los angelitos (Day of the Little Angels), when souls of children are welcomed home; and November 2nd is Dia de los muertos (Day of the Dead) a time to welcome those who died as adults and celebrate them with picnics in cemeteries, storytelling, and cleaning up gravesites. Along the U.S./Mexican border, the Days of the Dead and Halloween have mingled: pumpkins and witches are for sale in Mexican shops, and people can now buy sugar skulls in American bakeries.

Public Day of the Dead celebrations are gradually making their way into mainstream America. Self-Help Graphics in East Los Angeles, a Latino organization, has hosted a citywide Day of the Dead celebration each year since 1972. Its popularity has grown exponentially, say organizers, because it's not just a party, but has personal relevance to anyone who's lost a loved one. Over the past decade, major museums and art galleries in Boston, New York, Chicago, Houston and Miami have hosted Day of the Dead exhibits by living Chicano artists inspired by the Mexican ofrenda (a home altar created especially for Days of the Dead to hold offerings for loved ones). These exhibitions feed the American public's growing interest in multicultural celebrations and folk art, as well as in the more spiritual, meaningful aspect of the holiday. It's this spiritual connection that attracts thousands upon thousands of American tourists to Day of the Dead celebrations in Mexico, especially in the small, pretty-as-a-movie-set town of Oaxaca, where, in the first few days of November, the smell of marigolds wafts from the cemeteries in early November.

In the evening some cemeteries slowly fill with people. They carry flowers and candles to decorate the graves of the dead. At the little cemetery of San Felipe del Agua near Oaxaca City, there is a painted wooden altar in the center of the graveyard. It is filled with flowers and candles, offered by the faithful on the night of All Souls'. . . . At the few unattended gravestones, small children play the traditional board games-El Ancla and La Oca-by the waning light of a single vigil candle . . . Close to midnight the musicians gather in the middle of the panteon to play Las Golondrinas (The Swallows) and Dios Nunca Muere (God Never Dies). Then slowly the families collect their baskets and candles and leave the little cemetery."

-description of Day of the Dead by Judith Strupp Green, Curator of Mexican Ethnology, San Diego Museum of Man, Balboa Park in Popular Series No. 1, May 1969

Just as Latin Americans are reclaiming their spiritual holiday right next to, or on top of Halloween, many of an estimated one million Neopagans(1) in the U.S. are celebrating their October 31st holiday more publicly. Modern day Witches now open their Samhain rituals to the public in gatherings all across the nation-Portland, Oregon to New York City; Laramie, Wyoming to Memphis, Tennessee; Sterling Heights, Michigan to St. Petersburg, Florida. And, according to leaders, the numbers of participants have been growing over the past ten years.

Halloween, for many, has become a time to touch down and find our place in the long line of generations.

Extreme Halloween

...today's Hallmark-approved, TV special-packed, sanitized and ready-to-go Horror Lite is missing something. Like the rest of the major holidays (and quite a few of the minor ones), Halloween today seems to be a slicked-up, white bread, Disneyfied version of its former self.

-James Lileks, in his editorial column, "Backfence," for the Minneapolis Star Tribune

For those of you who side with Mr. Lileks, you're not alone.

Over the past two decades, Hollywood, in tandem with the dark entertainment industry, has created a sophisticated clientele that demands vivid, increasingly graphic, sensational scares. Enter the Halloween prop business, barely extent in the 1970s.

In haunted houses, wind-pipes made of cold, cooked lasagna noodles have given way to items like the Colorado-based Distortions Unlimited's Gallows, a realistic replica of a hanging, or their Electrocutioner, a detailed animatronic man writhing in an electric chair. And crowds eat it up: mostly 12- to 24-year olds, and surprisingly, often more women than men. The industry shows no signs of getting any less sophisticated; each new season brings more intense visuals, unique tortures, and real life, pump-your-blood, it's-gonna-get-you scares.

If the adults who grew up in the 1950s and 1960s try to preserve trick or treating to honor Halloween, those who came of age in the 1970s with heavy metal, slasher movies and the fear of razor blades in their apples just might get nostalgic for a scarier, more extreme Halloween. These are the folks who drive the dark attraction industry-the businesses that create and supply haunted entertainments, gory costumes and decorations, and realistic effects.

Graphic gore is not new, nor is our appetite for it. Think of the blood-smeared Judith waving the severed head of Holofernes above the Hebrews, or Oedipus gouging out his own eyes, even the televised image of Nicole Simpson's bloody neck. We rarely look away. If Jaycees haunted houses were the equivalent of PG, most professional haunted houses today have become R-rated. Commercial haunts are more realistic, more engaging, and, importantly, more interactive. Customers want to be in someplace where the unexpected will pop up, where they're terrified of what's around the corner.

"It's like boot camp for the psyche," said horror film director Wes Craven to David Blum in a New York Times interview. "In real life human beings are packaged in the flimsiest of packages, threatened by real and sometimes horrifying dangers, events like Columbine. But the narrative form puts those fears into a manageable series of events. It gives us a way of thinking rationally about our fears."

Haunted attractions give people the experience of being safe and afraid at the same time. We know it's not real. In fact, professional haunters know that if you tread too hard on that fine line of reality/unreality and even hint that something's really wrong, the fun goes flat like a busted party balloon. Being spooked, says psychologists, is even good for us. Haunted houses, like roller coasters, provoke anxiety. And if we get anxious enough times and see that we really don't get hurt, then we become less afraid in general.

But it's not just the fear, the surprise, and the adrenaline-you can get all that in a movie. Haunters know you have to balance your effects with the right amount of actors-human contact is key to a successful scare. By adding the element of performance, they hit on what hooks people: the possibility that something real could happen.

Anti-Halloween

Halloween in the Pulpit

Is Halloween sacrilegious or secular? Lest you think ours is the only time in which folks protest against Halloween, here's a the holiday envisioned by a priest at St. John's Rectory in Hartford, Connecticut before the Civil War:

Instead of the profane rites by which it has been desecrated, I have supposed it [Halloween] observed in Christian homes, by fire-side tales and recollections of the departed, and conversations about the state of Intermediate Repose.

-Arthur Cleveland Coxe, "Halloween, A Romaunt" (1846)

Every October some pastors will rail against Halloween and the Devil and others will just as passionately defend the holiday. The media loves this particular battle: if our culture was destroyed tomorrow and all that was left were television videotapes, future archeologists would think Halloween was a Satanic ground war. Yet the fact is the huge majority of folks mark Halloween as they always have, and it's a well-publicized minority who speak out against it. It's also important to note that religious beliefs vary church by church, and that many have no problem with Halloween.

"I would say that just as Peter Cottontail does not summarize the meaning of Easter and Rudolph the Rednosed Reindeer does not summarize the meaning of Christmas, witches and goblins don't summarize the meaning of All Saints Day," stated Reverend George Niederauer, Bishop of Salt Lake City's Roman Catholic Diocese, in a 1999 interview with the Salt Lake Tribune.

"Being overly concerned with Halloween and its pagan origins is not in keeping with Christian faith," United Methodist Minister Rev. Ronald Hodges agreed. "If we believe fully in the omnipotence of God, then concern about witches, ghosts and goblins...is misplaced. It is God alone who rules creation, and persons need not fear the dark side of the human experience."

Halloween doesn't register with the Jewish faith or among Buddhists, because it's viewed as a secular holiday. But Seventh Day Adventists boycott the holiday completely and some Protestant Evangelical churches are adamantly opposed to it. It's because Halloween's origin is pagan, and it's symbols can be regarded as Christian-related, that it gets into so much trouble in the pulpit.

Churches that oppose Halloween respond by hosting "trunk or treat" parties, where people park their cars in the church lot, give out treats, then throw a party for the kids. Some urge children to dress as saints or heroes on Halloween, and some substitute a fall festival, all peaceable alternatives. But there are also blatant, anti-Halloween crusades, perhaps the most volatile of which is the haunted house in drag: Christian Hell Houses.

Hell House is not a glorification or observation of Halloween! This outreach happens during the 'Halloween' time of year because that is when the average, unsaved American is conditioned to visit haunted-house type attractions. Hell House simply capitalizes on the seasonal opportunity for the sake of the gospel.

-introduction to Hell House Manual

Christian Hell Houses create realistic horrors to proselytize: if you do these sorts of things-have abortions, be gay, drive drunk, contract AIDS, or, in a few churches, wear trenchcoats and shoot fellow students-you will go to Hell. Satan himself welcomes unrepentant sinners at the end of the show, and an angel redeems the saved. Hell Houses are billed as "spiritually based haunted houses" for which you can buy a kit: a 280-page how-to manual, video, cd of sound effects and scripts. Hell House creators, the Pentecostal Abundant Life Christian Center in Arvada, Colorado, believe the concept demonstrates how actions have consequences, and that death is forever. But the shows, as the manual states, have nothing to do with Halloween, and often polarize towns unnecessarily into tense, pro- and anti-Halloween factions.

Halloween in the Principal's Office

Youngsters at the West Jordon [Utah] school can wear plaid shirts, overalls and straw hats this Friday and will learn how to square dance and line dance instead of parading through the halls as Darth Vader or Pokemon characters. When children wear blue jeans, [principal] Berrett doesn't worry they will bring aka guns or knives.

-Salt Lake Tribune, October 27, 1999

We're trying to get away from Halloween's connotations. We find that we stay away from a lot of the objections that might be surrounding us. It's a kind of preventative thing.

-Principal of Belle Chasse Primary School, New Orleans, Louisiana, in an interview with the Times Picayune, 1997

Often times, as with Hell Houses, Halloween's iconography is used as a backdrop for an obvious political or moral agenda. Sometimes it's more subtle. Regulating Halloween costumes in school, for example, is ostensibly for kids' safety, but it's also a way to make kids conform.

"We do a lot with schools around Halloween; not so much Halloween costumes, but story costumes instead," said Natalya Haden, who with husband Jack Cody owns Creatures of Habit, a vintage clothing and costume shop in Paducah, Kentucky. "It takes the Halloween out of Halloween. Witches, ghosts and ghouls are Halloween characters. The scariness is what makes it different from any other dress-up occasion. The fear of hurting someone's feelings or being PC [politically correct] doesn't allow children to be as creative."

Jack agrees. "I'd be surprised if Halloween lasts another ten years. It used to be whole wheat and now it's white bread with the crusts cut off."

Our public schools need to serve every single student, be he Haitian immigrant, fundamentalist Christian, Quaker, Buddhist, Muslim or Jew. And school officials need to answer to parents. If Halloween's perceived as religious, or anti-religious, principals will hear from them. If it's viewed as taking up too much valuable academic time, or if older kids' costumes scare the younger children, they'll hear about it. And, most recently, if a Halloween costume is seen as an opportunity to conceal a weapon or drugs, principals may even be held responsible. No devils, no witches, no black lipstick or white, goth face make-up, no baggy pants or hats, please. School officials under fire opt for the choice that offends the least number of people. But to what extent are we letting a vocal few dictate the pleasures of the majority? Has everyone really been heard?

The whitewashing of Halloween celebrations in our schools may simply be a sign of the times. It's not just Halloween; celebrating holidays in school in general is being downplayed. Some schools eschew all holidays or invent new, secular ones to take the place of the traditional quasi-religious ones. For example, the Hillsborough, New Jersey schools initiated Special Persons Day to take the place of St. Valentine's Day. May Day celebrations in school have all but died out in the past thirty years, and a new, generic "celebration of light" has begun to crop up to cover all the winter religious holidays-Christmas, Kwaanza, and Hanukkah-together.

There may always be people who have no use for Halloween. So be it. One of the hallmarks of an enlightened society is that it respects all beliefs-majority or minority. There's no reason why those who don't celebrate Halloween should be punished for it. And there's no reason why those who do should be restricted. We have to find ways to make our celebrations flexible enough to let anyone in, or out, without giving up the heart and soul of Halloween.

Designer Trick or Treat

Come to the Mall-o-ween carnival! A 25-cent ticket lets you play games for great prizes! Enter the costume contest! Win!

Trade your Halloween candy for cash! Dentist X- will pay $1 for every pound of candy you turn over to him, up to five pounds!

Come to the Health Center and tour our haunted house, where nice folks hand out candy from inside office doorways (don't tell Dr. X-)!

Trick-or-treat over on our street, where the sidewalks are wide and well-lit, and every house gives out full-size bars (no snack size miniatures here)!

Celebrate Halloween indoors, in stores, in malls, in office buildings, in upscale neighborhoods!

Somewhere along the way, we've become convinced that when it comes to trick or treating, our own neighborhoods are not as much fun as the fancy ones, and that shops and malls are safe havens, while the streets outside our own houses are not. That home-made treats are dangerous, and store-bought, wrapped candies are not. We've become suspicious: of strangers, of cookies baked by someone else's grandma, of older kids in masks and hoods. The dark makes us nervous. And because we love our kids so much, we transfer our fears to them.

It doesn't matter if we know deep down that there are no Satanists looking to kidnap our kids, and no crazy person trying to hide blades in their treats. We still fear for our kids, and act as if these things might be true. Even trick or treating gives us pause.

I distributed a questionnaire to 50 adults in the fall of 1999. They were of all ages, lived in rural, urban and suburban areas, and came from eleven states coast to coast. One of the questions I asked was this: would you allow your ten-year old to go trick or treating in your own neighborhood without a parent? Forty-one respondents answered this question. Only eight said yes: three were parents with grown children, one was in their 20s with no children, and the other four lived in areas where they knew all their neighbors. The other respondents said no (21), or only if they were with friends (12). The reasons? It's too dangerous/you can't trust people (15); I live on a busy street (3); there are wild teenagers out (4); and it's too dark (3).

The sense of fear around Halloween has spawned a host of preventive measures designed to keep kids safe. Some towns hold community-wide parties on Halloween night, making families choose whether kids will go out trick or treating or attend the party. This outright attempt to eliminate trick or treating seems to occur, so far, only in communities that have serious reservations about Halloween already, such as towns where a conservative religious group is prominent, or towns in which a recent crime spills over into the Halloween season and makes everyone nervous about stranger danger. Some towns and cities regulate the hours for Halloween activities-since Halloween's not recognized by the federal government, each municipality can establish its own rules. They post trick-or-treating hours that tend to be earlier, some even in the afternoon, before dark. The newly formed Halloween Association, a national trade organization based in Maryland, has a campaign to set Halloween on the last Saturday of October, before daylight savings time ends. It's safer, says the organization: the day will be lighter longer, and will never be a school night. Many others are adamantly opposed to this proposal, from parents who resent government intrusion to businesses, like costume shops, who do extra sales when Halloween falls midweek.

But does it work? Does regulating Halloween hours for trick or treating keep kids safer? We really don't know yet. There's no hard data proving such rules have an effect on Halloween accidents. The National Safety Council does not keep statistics on trick or treating hours, and the Centers for Disease Control traffic child fatality figures for Halloween do not include any numbers indicating a change since 1975. Rather, dictating hours when kids can trick or treat gives the illusion of safety: adults feel better when kids go out earlier, and during specified times. It also makes it easier to plan and structure the night.

Another common reaction is to go trick or treating in confined, controlled environments. Mall trick or treating arose soon after the tampered-treat scares of the 1970s; many communities still offer it. But a newer trend is developing along these lines, which is to take kids to affluent neighborhoods, or "good Halloween neighborhoods"-areas that give really great treats, and all the houses participate. Or to do a prearranged trick or treat route, where you stop only at friends' houses, even if it means getting in the car and driving all over town. Let's call it designer trick or treat.

There are many plusses to designer trick or treating: going to a special area of town that's famous for its Halloween celebration means there'll be lots of other folks around, increasing the feeling of safety as well as the fun. Affluent neighborhoods are usually better lit, with wide walkways leading up to the front door; it's easier to keep watch on your little ones. And trick or treating only at friends' houses means you know and trust everyone your child comes in contact with.

But what you lose with designer trick or treating is an essential aspect of modern Halloween: an opportunity to build community, to turn strangers into acquaintances. Going only to "good" neighborhoods contains the holiday and institutionalizes it, like going to prefabricated Christmas villages rather than finding beauty in the blinking lights of your own street. Nothing permanent is gained. You've missed your one chance a year to visit with the people on your own block, choosing instead to visit those you already know, or those you'll probably never see again. Case in point: children in my town often trick or treat across the city line in an upscale neighborhood in Cambridge, Massachusetts, where the houses are huge and endlessly being remodeled. Last Halloween, workmen-not the owners-were handing out candy!

One last thought on safety: I think it's interesting that most of us support zero tolerance on terrorists: even when they're holding a planeful of hostages, we support a firm refusal to negotiate. Yet we will-almost without a fight-let the specter of the Halloween danger terrorize us into giving up a ritual we dearly love and clearly need.

The Importance of Halloween

The Brazilian kids in my neighborhood are stunned by Halloween. They have just come to America and are learning English; they don't know yet to say trick or treat, or even thank you. But I can see their shy smiles and unbelieving eyes: this unexplainable generosity on the part of strangers sets their heads spinning.

There's a deeper value in knocking on your neighbor's door. Historians always describe Halloween as the one night a year when the veils between the worlds of the living and the dead are lifted. Perhaps in our culture today, Halloween is the one night a year when the barriers between people can be lifted: between classes, races and generations.

Halloween is also full of touchpoints. The first time we don't trick or treat is as significant as unmasking Santa: it's the end of childhood. Years later there's another marking: the first time we trick or treat with our children we become acutely aware of ourselves as adults, walking in the same responsible footsteps of our own parents.

People adapt customs to their needs, and they'll keep a holiday if it fits in with their values. Right now, preserving childhood is something parents care about. Trick or treating, pageants, haunts, parades and parties are all popular now because there's a need for community. People want to experience something real, a connection with each other and with forces beyond all of us, and an outgoing, exhibitionist holiday like Halloween is a perfect vehicle.

Yes, Halloween is becoming more popular, commercial, and adult, as well as more spiritual, creative, and extreme. But when you open up the frame and stand way back, you can see how everything's connected-Halloween isn't evolving in a vacuum, it reflects who we are and what we value. Halloween is a touchstone for each and every one of us through time and across continents. As Jack Santino writes in All Around the Year, "Celebration, symbol, ritual, festival, holiday, folk custom-all too often these are viewed as fun, pleasant, perhaps even beautiful upon occasion, but also as frivolous, never as primary to life. I suggest that in fact they have to do with those parts of life, both biological and social, that are of the most importance to us, with birth and death, with life and growth...Where we find elaborate symbol and ritual we find issues and event that are of central importance to human beings."

Maybe future generations will look back with nostalgia to our time, when death separated generations and people had to imagine what good and evil looked like on this night once called Halloween. They may chuckle to themselves at both our cynicism and our innocence. But I'm willing to bet they still have a Halloween. Because as long as the earth goes around the sun, there will be the coming of the dark season, and with it, the need to celebrate all that stays hidden in the shadows.

Endnotes

1. The Witches' Voice, the largest internet site for the Neopagan community, quotes this one million figure; earlier, pre-internet estimates were anywhere from 30,000 to 500,000 depending on the source.